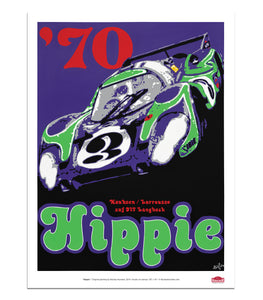 Hippie - 917 Longtail - Poster
Hippie - 917 Longtail -  Poster
Colloquially known as "Hippie" this Martini Racing Porsche 917 Longtail made its lone race appearance at the 24 hours of Le Mans in 1970. The psychedelic livery perfectly captured the zeitgeist of the early 1970s and firmly implanted itself into the hearts of Porsche fans all over the world. The Hippie 917LH wasn't all swoops and colors, it finished on the 2nd step of the podium, five laps behind the winning 917K of the Porsche Salzburg team.
• Based on an original painting by Nicolas Hunziker
• Printed on 100# gloss book stock
• Size: 18" x 24"