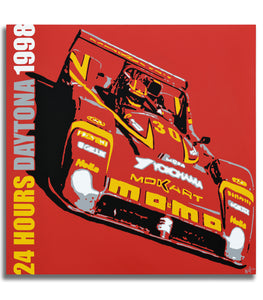 MOMO Vincitore
"MOMO Vincitore"
2019
Nicolas Hunziker
Switzerland
Acrylic on canvas, 40" x 40"
With the backing of Giampiero Moretti - founder of the MOMO company - Ferrari returned to sportscar racing after a 20 year absence in 1993.
The Dallara designed 333SP was powered by a 4.0L Ferrari V12 engine and scored an impressive 56 victories from 144 race starts.
The crowning achievement was undoubtedly the overall victory at the 1998 24h Daytona, which still stands as Ferrari's last victory at this event.
Notes:
- Commissioned by MOMO and artwork of the official MOMO Heritage Collection by Hunziker