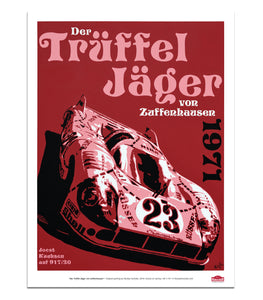 Pink Pig - 917/20 - Poster
Pink Pig - 917/20 - Poster
Proof that the Germans have a sense of humor, the Pink Pig livery is one of the most iconic Porsche 917s of all time. Originally called the "Trüfel Jäger von Zuffenhausen" (the truffel hunter from Zuffenhausen) the Porsche 917/20 participated in just one race. It succumbed to an accident in the 12th hour of the 24 hours of Le Mans in 1971. While it may have had a short run on track, it lives on in the hearts of motorsport fans all over the world.
• Based on an original painting by Nicolas Hunziker
• Printed on 100# gloss book stock
• Size: 18" x 24"