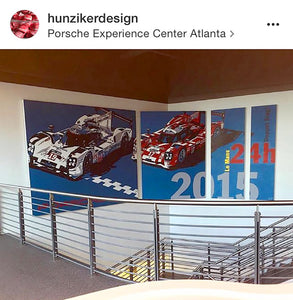 Porsche Cars North America - Porsche Experience Center
"24h Le Mans 2015"
2016
Nicolas Hunziker
Switzerland
Acrylic on canvas, 22 ft x 10 ft
Visitors to Porsche Cars North America's headquarters in Atlanta will from now on be greeted by this original Hunziker painting.

The four-panel acrylic on canvas painting is over 22 feet wide. Each canvas chassis was laser cut from aircraft grade aluminium and then assembled using automotive chassis construction methods (using a patented stamping process that requires no drill holes, rivets or glue.)

One unique aspect of this piece is the 'floating' center canvas which visually connects the two perpendicular walls. The subject matter was chosen by PCNA to correspond with the same year that the first Porsche Experience Center opened its doors.

Special thanks should go to Detlev von Platen, Member of the Executive Board of Management - Sales and Marketing at Porsche AG and Andre Oosthuizen, VP Marketing at PCNA. Without their extraordinary vision and assistance, this project wouldn't have been possible.
Notes:
- Commissioned by Porsche Cars North America