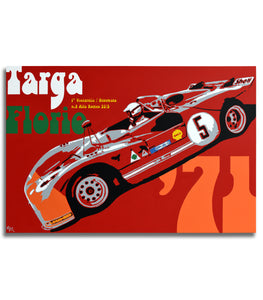 Viva Nino!
"Viva Nino!"
2019
Nicolas Hunziker
Switzerland
Acrylic on canvas, 60" x 40"
You wouldn't think that a local school teacher from Palermo would be one of the best drivers of the treacherous Targa Florio road race, but Nino Vaccarella's local knowledge of the country roads around Sicily gave him a leg up on the competition.
For the 1971 Targa Florio, Alfa Romeo selected Vaccarella and Dutch ace, Toine Hezemans, to drive their T33/3. It proved to be a good pick: They scored on overall victory at one of the most dangerous races in the World.
Notes:
- Featured artwork of the 2019 "MITTY" Historic Sportscar Racing event